remold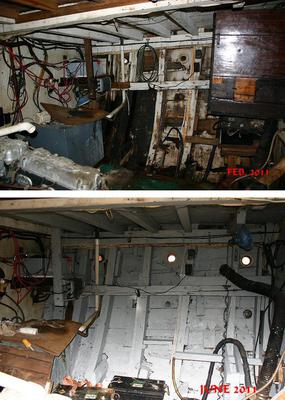 before and after
FACT: BLEACH KILLS FUNGIS

FACT: PEROXIDE KILLS MOLD. SO WILL COMMERCIAL O2 MACHINES, BUT DO NOT USE THEM WHILE ABOARD. VERY HARD ON YOUR LUNGS!
Mold likes still air.
by Mike
It's that time of year again for many of us in the northern hemisphere.

A time of mists and mellow fruitfulness and mold and mildew.

All the rain and damp misty weather is already causing the inevitable condensation, drips from deck fittings, etc, creating the sort of damp boat interiors that mold loves most dearly.

When the outside air is so humid the natural instinct is to seal the boat cabin tight and some even will leave a light bulb lit in the hopes that it will take chill off the inside air.

Neither of these will stop the growth of the mold, in fact they will only encourage it.

As for wrapping a wooden boat in shrink wrap, that is just totally wrong on so many counts.

The traditional remedies include salt in the bilges, wiping or spraying surfaces with vinegar but most of all keeping the air flowing through the boat.

And they work.

Of those the best preventative is good ventilation.

It doesn't matter how damp the outside air is or even if it is warm and humid.

Mold just doesn't like moving air, even if it's humid.

No doubt there is a scientific explanation for this but all I know is that even though it seems illogical it works.

It doesn't matter which way the air flows through your boat as long as there it is allowed to move freely but without allowing rain to enter.

Dorade boxes fore and aft are ideal for creating a flow.

How the air flows through a boat can differ depending on the layout and how she is parked.

To take advantage of the natural flow you can check it by lighting a joss stick inside the closed cabin to see what suits your boat best.

If you intended to adjust or add extra ventilation it should be to set to augment the natural flow.


PS. You may not like the small of vinegar but it sure smells better than mold and mildew.
Oh, and use the clear/white variety as the brown stuff will leave stains.

Back to Winterizing


Photo Uploader

If you are having problems uploading Photos or would like to add more click on this link for the Upload Form.
You can upload as many as you like and there is no need to resize them.