Merron dinghy restoration ( like Duckling)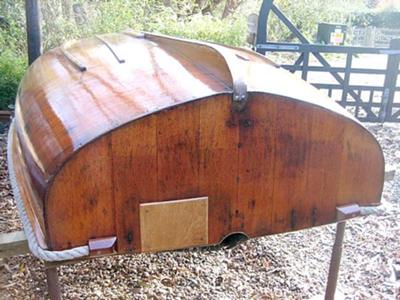 I have just started restoration of an 11' 0" Merron dinghy with original enamelled 'Thames Conservancy' registration plate dated nov. 1947.

It's the first autoclaved ply dinghy sold in the UK and is similar to the Fairey Duckling.

It's very original but has no mast or rigging however I'm confident that I will source something suitable.

The problem that I have is that there is no rear thwart and no signs of original fixings for one although for practical purposes one must have been fitted when built.

Does anyone have any knowledge of the 'Merron' and it's rear thwart as I would like to keep it as original as possible?



While the original system worked quite well as a one-off post, it didn't allow for updating or posting new photographs etc.
That is why I have introduced the new Your Pages.
This is new 'Community' platform is for 2018.
It is designed to put you in control of your content, make it easier to for you to tell us about your Wooden Boat, upload photos etc. and most of all post updates as and when you wish to.
There is also a forum where you can ask any questions you may have about Wooden Boats and join in the conversations.
So, please come on over and join our community of likeminded Wooden Boaters.