Menehune
by Terry Williams
(Rainbow City Alabama)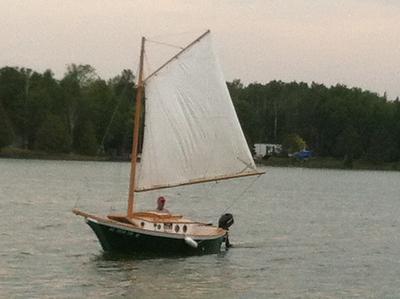 Menehune is a 19.5 Stephenson Weekender Built in Manning South Carolina in 2010.

She was built by Kevin Cobb of Blue Heron Boat Works.

A Gaff Rigged Sloop she drafts 18 inches.

Constructed of Cyprus and Mahogony, a full keelson and transom hung rudder makes her look like something straight out of the 18th century.

A great little boat and a blast to sail.


Return to Your Wooden Boat Projects...
Menehune 2
by Terry Williams
(Rainbow City Alabama)
Menehune just got a 1956 Johnson 3hp jw-12.

I picked it up at an antique shop in Gadsden Alabama.

The engine runs great and looks fanastic.

I took it home replaced the plugs added gas and oil and presto she cranked right up.

I let her run for about an hour on the motor stand.

I hope I get to put her in the water soon. I will post some pics soon.
Menehune 3
Menehune was originally rigged as a Cat Boat.

I have added a Jib and deck hardware so she is now a sloop and new graphics on her stern.

I cut a jib from an old sail I had in the "barn".

I hope to get her in the water soon to see how she handles.

More to follow.
Return to Your Wooden Boat Projects...
Menehune's gaff rig
by Terry Williams
(Rainbow City Alabama)
Hey everyone...does anyone have any tips on sail shape on a gaff rig?

I took Menehune out this past weekend in about 10-15 knots she handled well but I could not get the long crease out of the mainsail.

I tried tightening the halyard loosing the halyard ect but I could not remove the long crease from the front of the gaff to the end of the boom.

If anyone has experience in this sort of thing let me know.

Thanks.


While the original system worked quite well as a one-off post, it didn't allow for updating or posting new photographs etc.
That is why I have introduced the new Your Pages.
This is new 'Community' platform is for 2018.
It is designed to put you in control of your content, make it easier to for you to tell us about your Wooden Boat, upload photos etc. and most of all post updates as and when you wish to.
There is also a forum where you can ask any questions you may have about Wooden Boats and join in the conversations.
So, please come on over and join our community of likeminded Wooden Boaters.