Frolic
by Kris Stokke
(Colorado)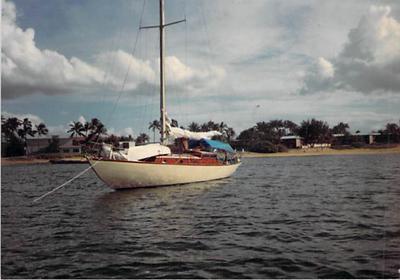 Frolic in Hawaii
Sold

Frolic is now floating in the San Juan Islands and is needing TLC.

She is a Classic Island Clipper built by Fellows and Stewart.

She is 44 feet with oak ribs & mahogany and a full lead keel.

I have a penchant for things built when artistry was important.

Frolic has good bones and I know I will learn a lot with this crazy journey while going broke at the speed of light.

I bought Frolic from a gentleman who is now 87 and has incredible memories of sailing with his wife to Hawaii aboard Frolic years ago.

While I have restored two old homes built in 1901, I have never restored a boat.

Yes, I hear you laughing.

As you might imagine, I am so grateful to all of you who share your passion, and for this website that provides much needed expertise, ideas and opportunities.


While the original system worked quite well as a one-off post, it didn't allow for updating or posting new photographs etc.
That is why I have introduced the new Your Pages.
This is new 'Community' platform is for 2018.
It is designed to put you in control of your content, make it easier to for you to tell us about your Wooden Boat, upload photos etc. and most of all post updates as and when you wish to.
There is also a forum where you can ask any questions you may have about Wooden Boats and join in the conversations.
So, please come on over and join our community of likeminded Wooden Boaters.