DIY boatyard on the Thames at Brentford
DIY Yards
Does anyone know of a DIY Yard near or on the ICW in central Georgia to North Carolina that doesn't cost an arm and both legs??

HELP/ I need to haul and repair a 57' Connie


The I word for Old Boats
by Susan Peterson Gateley
(Wolcott NY USA)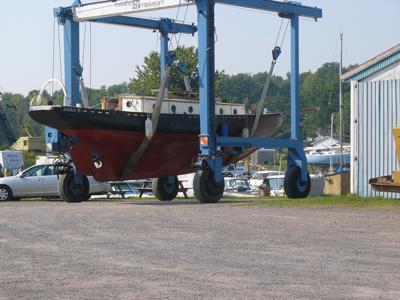 I saw a recent post about getting insurance on a fixer upper.

My spouse suggested an idea-here it is.

If people know of boat yards and or marinas that are "Old Boat Friendly" ( or at least tolerant) could we post them up here somewhere?

For example there is one marina in our area that still tolerates old wooden boats and repairs to same.


View Larger Map

It is called Bayside Marina and is located in Fair Haven NY.

They have a link on the chamber of commerce website for Fair Haven.

When we bought our old boat 6 years ago, we had to motor her 120 miles to get to a place that would haul an uninsured wooden boat-

Seems like this may be a problem for other brave hearts that are trying to fix up old woodies in the U.S. where liability laws and insurance and increasingly ruling the world...




Vacamonte - Astillero Nacional, Panama
by Rosalind Laing
(Panama, Republic of Panama)
This fishing port shipyard - www.astilleronacional.com - welcomes wooden boats.

It has the expertise - wooden boat shipwrights - to build and repair wooden boats and can provide woods at exceptional prices.

The total rebuild of the 1914 wooden gentleman's racing schooner "Ranger" was completed here at a fraction of the cost of East Coast yards.
Wood Boat Restoration in Helena Montana
by Frederick B Goughnour
(Helena, MT USA)
Just moved from Minnesota, to Helena MT.

Have been restoring wood boats since 1990.

I am building a shop this spring, and will begin working on some pet projects and scheduling any customer projects who are in the area.

I have a couple of projects lined up already,and will be trying to get my name out in the area this summer.

I'm confident there are other wood boaters out there to share my passion and knowledge to ultimately get to enjoy some cruising.

Frederick B Goughnour 952.378.0016 fred.goughnour@frontier.com


Koehler Kraft
by Liz
(San Diego)
Koehler Kraft boatyard in San Diego allows Do It Yourself projects on wood, fiberglass, and steel.

They are a full service boatyard as well as diy.

They specialize in rebuilding and restoring classic wooden yachts.

Koehler Kraft is San Diego's longest standing full service boat yard located on beautiful Shelter Island in America's Cup Harbor.

Koehler Kraft has been a family-owned and operated boat building and repair facility since 1938.

Do-it-yourselfers are welcome anytime!



THE 21st ANNUAL WOODEN BOAT FESTIVAL was held on June 18TH AND 19TH 2011
Each Father's Day Weekend wooden boat owners display their craft at The San Diego Wooden Boat Festival.

More than 80 wooden craft, ranging from row boats to regal schooners, were on hand for viewing by the public.


DIY yard in San Diego, CA area
by George
(San Diego )
I'm lookihg for an inexpensive diy yard near-by San Diego.

Want to put most of my limited boat budget into the project and not in a landlords pocket.

Thanks



Comments
DIY Boat Yard Search
by: Mike
Hi George,
There is a link to a San Diego yard
here which allows DIY.
But if you check out their website it aint cheap and there appear to be a lot of caveats to DIY.
I could very easily get into a rant about the red tape, health and safety legislation, etc, that these day makes running a yard or any business for that matter such a bureaucratic nightmare.
There are still some places that are diy orientated but they do tend to be short on facilities and hard to find without local knowledge, which is why I set up the above link.
Sorry that this isn't helping you much, I just wanted to ask you to let us know if you do find somewhere suitable so that others can benefit.
~~~~~~~~~~~~~~~~~~~
Wood boat expert in Florida
by Tom
(Naples, FL)
Can anyone recommend someone in south west Florida, Naples area that does wood boat maintenance.

I have a 17 ft 1958 Chris Craft Sportsman. I need someone to get it ready for the water and keep it pristine.

Tom


DIY boatyard on the Thames at Brentford
by John Watson
(London, England)
Visit 'Lot's Ait' Boatyard to see London's new boatyard offering DIY and assisted DIY boatbuilding and restoration facilities.


View Larger Map


Over 5000 sq foot shared workshop, woodworking machinery, slip, hardstand, tidal dock.

Currently being restored, the yard will be open for business this spring.

So register your interest early on the site to reserve your space at Lot's Ait Boatyard

Want to add more photos?