Aberdeen Asset Management Scottish Traditional Boat Festival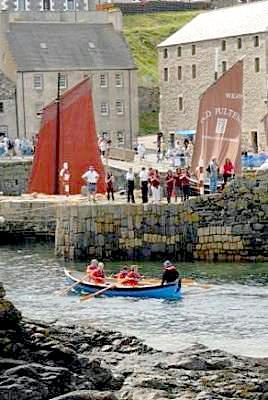 Heritage vessels from near and far attend the Aberdeen Asset Management Scottish Traditional Boat Festival
The Aberdeen Asset Management
The dates for the 2012 event have been confirmed as
Saturday June 23 and Sunday June 24.
It will be the 19th year of the Festival, which takes place in Portsoy on the North-east coast of Scotland.
In previous years, crowds in excess of 16,000 have attended the community-run event celebrating the rich maritime traditions of the area.
Traditional wooden boats from near and far are expected to attend the Festival, which has Portsoy's historic 17th century harbour as its backdrop.
The organisers put strong emphasis on boat building, restoration and sailing, but visitors will also find an extensive program of associated traditional skills such as knitting and weaving.
Food and drink, craft and music forms an integral part of the event, ensuring that it really does offer something for everyone.
View Larger Map
The Aberdeen Asset Management Scottish Traditional Boat Festival grew out of the celebrations staged in 1993 to mark the 300th anniversary of Portsoy's old harbour.
It was developed into an annual event and has grown to such an extent that it is now recognised by VisitScotland as being one of the region's flagship tourism events.
The Festival is now a growing social enterprise which also runs the Salmon Bothy in Portsoy – a museum and community space, and the PORT (Portsoy Organisation for Restoration and Training) Project which aims to keep alive traditional boatbuilding skills.