1948 23' Bemister?
by Cordell
(Wirral, UK)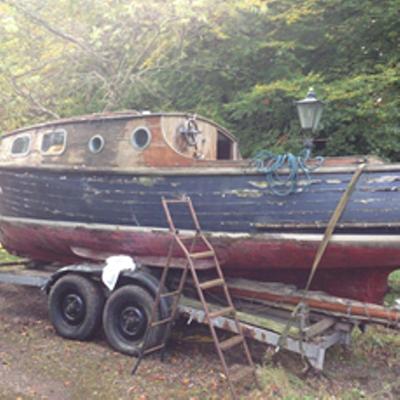 Actually, I am not sure what this is so am posting on here to see if anyone recognizes the hull shape/configuration and can tell me any more about the boat.

I bought it a few years back and it was at the time advertised as a 1948 23' Bemister Sloop.

I would ignore the CMS, I have some sections of what I believe are the original sails - brown canvas/cotton (lots of holes).

It was located in Poole, UK when I got it & other than a few internet pages (long ago lost with vague info on them) I can't seem to find any info about Bemisters...

It has a Brit 2 cyl petrol 12 HP which also seems quite rare, few people have heard of them...and parts seem non-existent so I'll be replacing with Diesel, but any info would be appreciated.

Thanks in advance...