1948 23' Bemister?
by Cordell
(Wirral, UK)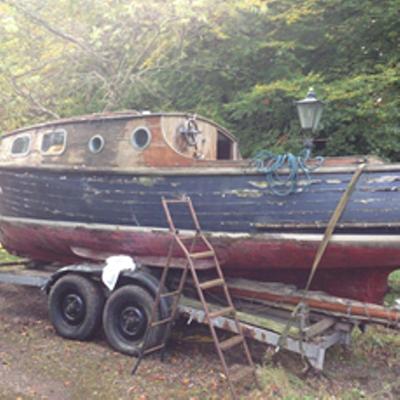 Actually, I am not sure what this is so am posting on here to see if anyone recognizes the hull shape/configuration and can tell me any more about the boat.

I bought it a few years back and it was at the time advertised as a 1948 23' Bemister Sloop.

I would ignore the CMS, I have some sections of what I believe are the original sails - brown canvas/cotton (lots of holes).

It was located in Poole, UK when I got it & other than a few internet pages (long ago lost with vague info on them) I can't seem to find any info about Bemisters...

It has a Brit 2 cyl petrol 12 HP which also seems quite rare, few people have heard of them...and parts seem non-existent so I'll be replacing with Diesel, but any info would be appreciated.

Thanks in advance...


If you wish to add more photos (or videos) to your post or if you have any problems loading photos use the link below (there is no need to resize or adjust your photos).
But please use the 'Description Box' to indicate to which post the photos belong.
Click Here to securely send your photos,