Wooden sailing boat building project to finish, new built hull
by Juliette Fitremann
(France)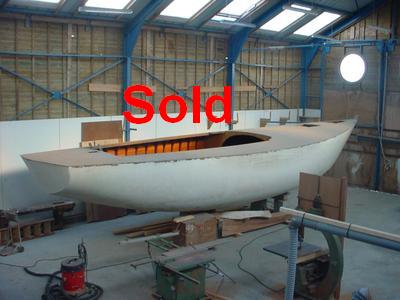 SOLD
The sailing boat construction project described here is looking for a new owner to take up.
It is currently located in Brittany, France.
This wooden sailing yacht could be interesting for someone who desires a custom sailing boat, and who likes to be involved in the different steps of wooden boat building.
The hull already finished can provide an advantage in terms of construction time and costs.
The work remaining to do corresponds to the keel, roof, cockpit, mast and accommodation.
The project can also be interesting for a person skilled in wooden boat building, but who cannot take in charge the whole construction, and more particularly, the construction of the hull.
She will be a 14.25 meters (47') x 4.15 meters wide sailing yacht, designed for ocean sailing.
In the initial project she has been designed as a bermudian cutter (with two foresails, jib and fore staysail).
The hull has been built by strip-planking with three mahogany ply and Oregon pine, epoxy soaked and sealed under vacuum.
The structure is sustained by hand-made mahogany ribs (glued slices), which are in double for higher resistance.
There is already two partitions at the front.
The deck is made of marine plywood.
The hull is not yet opened for the keel.
The sailing boat plans (on paper, from the architect), are provided.
The hull has always been kept in a hangar.
A sale price at 18.000 is proposed, to debate.
Offers are invited.
While the original system worked quite well as a one-off post, it didn't allow for updating or posting new photographs etc.
That is why I have introduced the new Your Pages.
This is new 'Community' platform is for 2018.
It is designed to put you in control of your content, make it easier to for you to tell us about your Wooden Boat, upload photos etc. and most of all post updates as and when you wish to.
There is also a forum where you can ask any questions you may have about Wooden Boats and join in the conversations.
So, please come on over and join our community of likeminded Wooden Boaters.