Wooden, Canadian Canoe
by Adrian Palmer
(Thames Ditton)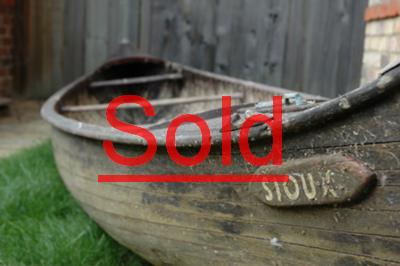 SOLD
I've inherited a wooden canoe from my father, (circa 15ft long by 3ft at the widest point), which I am lead to believe was imported from Canada at the turn of the last century. My Dad bought it in Norwich in the 1950's.
I have no idea what wood was used to make it but a friend believes that it might be cedar?
It was in the loft of a boathouse for 30 years where it dried out so much that it leaked like a sieve. It was then transferred to a garage where it spent the next decade.
I left it outside for the 8 months and floated it in the Thames for two weeks to see if the wood could be encouraged to swell/rehydrate but it hasn't worked and some parts have got worse.
Needs a total refurbish in my humble and inexpert opinion.
It could become a thing of beauty once more given the right attention.
I'll accept offers if anyone out there is looking for a project.
Adrian
palmofski@hotmail.com
While the original system worked quite well as a one-off post, it didn't allow for updating or posting new photographs etc.
That is why I have introduced the new Your Pages.
This is new 'Community' platform is for 2018.
It is designed to put you in control of your content, make it easier to for you to tell us about your Wooden Boat, upload photos etc. and most of all post updates as and when you wish to.
There is also a forum where you can ask any questions you may have about Wooden Boats and join in the conversations.
So, please come on over and join our community of likeminded Wooden Boaters.