Bebas
by James Howard
(Dorset, UK)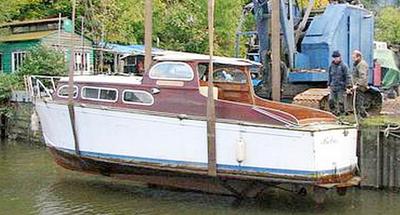 September 2016

Now based on the South Coast in Dorset the project is moving on - four years in.

With the new construction fully bedded in, the first coats of varnish are now going on.

I am using Le Tonquinois No 1 - seven coats on the exterior and I hope it lasts!

The windows were all taken apart last winter and fitted with new seals and are ready to go back in, once varnishing is complete.

Planning the re wiring and refitting the interior next, hopefully to re-launch next spring.

I am very keen to hear from other William Osborne owners, so if any of you see this do get in touch, it would be great to find some other boats of the family.


Join in and write your own page! It's easy to do. How? Simply click here to return to Your Wooden Boat Projects...
Bebas
by James Howard
"Bebas" a William Osborne Kestrel, 28'6" Motor Boat by the Thames

Trying to keep bulkheads in place, will make new laminated deck beams and have ordered new Sapele timber to rebuild cabin.

Cabin top stripped off, deck beams and cabin sides to be removed.

The bottom looks ok! From a distance, but actually is in pretty good condition for 52 years old.




Want to add more photos?