What to use to even out the colors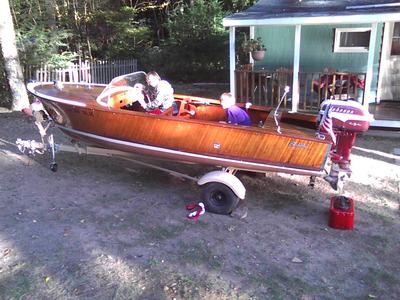 I am in the process of restoring my 57 Wagemager Cadillac.

I have stripped off the old varnish from the top and Hull.

The top surfaces are planked mahogany and the sides are cedar plywood.

It appears that a stain or tinted varnish was used on the orig. finish as the cedar is much lighter than the mahogany, plus I noticed when I stripped off the varnish, when sanding there appeared to be a color tinting coming off under the varnish.
***C2Add.shtml***
If I re-varnished with nothing, I would end up with a 2 tone effect.

Does anyone know what was used originally and what are the best alternatives today to get even matched colors?




***C2Add2.shtml***
While the original system worked quite well as a one-off post, it didn't allow for updating or posting new photographs etc.
That is why I have introduced the new Your Pages.
This is new 'Community' platform is for 2018.
It is designed to put you in control of your content, make it easier to for you to tell us about your Wooden Boat, upload photos etc. and most of all post updates as and when you wish to.
There is also a forum where you can ask any questions you may have about Wooden Boats and join in the conversations.
So, please come on over and join our community of likeminded Wooden Boaters.