What now?
by Tim Rowe
(Glendalough, County Wicklow, Ireland)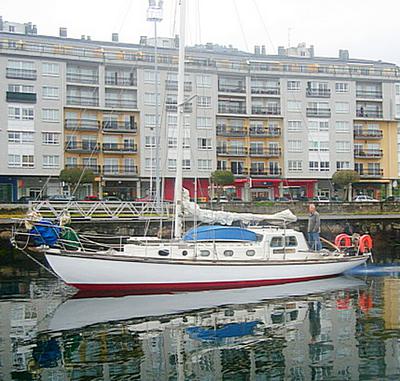 1950 timber boat.
Removed cover board and small parts of deck and epoxy cover.
What now?

I have a 1950 built Robert Clarke cutter called Right Royal, previously shown on this web site.

I received great information last time from the owner of a sister ship so I am hoping for advice this time.

The deck and hull are western red cedar and Honduras mahogany respectively.
They were sheathed in epoxy.

A split developed at the junction of the cover board and the top hull plank.
This has resulted in the mahogany cover board deteriorating due to rain water ingress.

The damage has spread to a small amount of the deck.

I have stripped back the epoxy and bad timbers; and low and behold the frames deck supports, in fact all the structural members are perfect, beautiful dove tail joints.

Because of previous minor patching and a variation in the appearance of the cedar deck from port to starboard It is impractical to restore the deck to a timber appearance.

There has been some plywood patching that has held up well.

So I am intending re patching in a good quality marine ply and re covering in epoxy.

Western red cedar has an integral oily feel to it.

What is the best advice as to achieving a good bond?

Tim Rowe




Photo Uploader

If you are having problems uploading Photos or would like to add more click on this link for the Upload Form.
You can upload as many as you like and there is no need to resize them.