What is the best material and method to seal the planks of a Mahogany Cabin on a 1956 Monk Motor Yacht?
by Grant Drummond
(Vancouver BC Canada)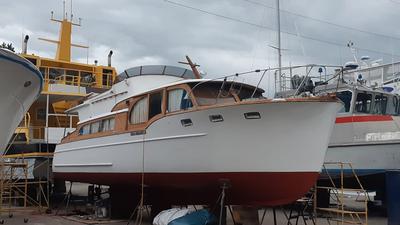 Hello. I own a 1956 Monk 40 Ft Bridgedeck Motor Yacht.

I have several topside Cabin leaks.

I am wondering what is the best material to use when re-sealing the planks of the cabin?

The Cabin is made up of mahogany planks that are stacked end on end.

It does not look like a tongue and groove design.

Should I be using Sicoflex to seal the cracks or do I use a seam compound of some sort?

Thank in advance,
Grant D.
Photo Uploader

If you are having problems uploading Photos or would like to add more click on this link for the Upload Form.
You can upload as many as you like and there is no need to resize them.