Vixen 27ft Williams (Australia)
by John
(N.S.W Australia)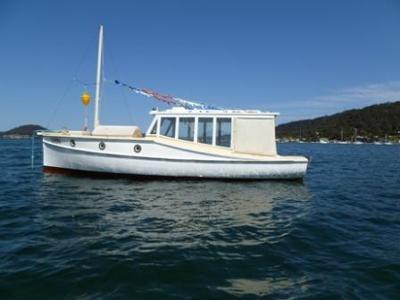 Vixen
I purchased "Vixen" a 27ft Williams built (gentleman's day cruiser and ladies luncheon vessel) about 3 years ago.

She was built, I am told, in 1935 and was in service on Sydney Harbour during W.W 2 ferrying troops from various spots around the harbour to their Troop Ship accommodation.

She is powered by a Lister S.T.W 3 diesel (approx 40 h.p)

In terms of performance and sea kindliness she is truly a delightful boat, designed and built in an era when expert talent and natural ability combined to create some wonderful vessels.

Nothing seems to worry this old girl.
Strong winds, large swells, nasty chop is all taken in stride and, as a proper lady should handle things, all dealt with in a strong but gentle manner.

No one I know can understand the great joy I get from working on this timber boat.

Sanding and painting to most people are labours best left to someone employed to do such tasks when paid enough to do so.

Not me.

I actually enjoy it and gain great satisfaction from the hours that I have put in.

And, what better way to get to know every inch of your vessel then to sand and paint her inside and out.

As for painting, in Australia we have a brand of paint "Norglass" (which I have no connection with) that produces a product "No Rust Primer".

What a great product.

Single pack, fast drying, sticks to anything, easy to apply and easy to sand.

I don't know what I would do without this product; it goes onto everything that has to be painted. (that's not an ad, more of a compliment.)

When I bought "Vixen" she was painted a beige colour with darker trim.

As you will see in the pictures, she is now predominately white with cream decks and trim.

Here's a hint, when I painted the cabin roof with white gloss, you could not look at it for the glare.

My great mate and the worlds most knowledgeable ships chandler, Bob Doel , after berating me for painting on the full gloss told me (didn't suggest) to go and mix some cream into the white and see what results.

Problem solved. And it still looks white.

At present I have a few immediate jobs on the go.

I have sanded and primed, but still have to apply top coats inside the boat.

I am working on the inside of the cabin top (plywood).

So far I have sanded the cross beams (varnished) back to bare timber and treated with epoxy wood preserver, 3 coats so far.

Next is sanding, priming and painting the existing, painted areas.

I am also making a tabernacle so as I can lower the mast and sneak under the low bridge that separates the main body of water we are on from some delightful bay areas.

Some of the jobs I have done so far are; Sand and paint inside and out.
Install cabin top vents, fit manual and electric bilge pumps, attached (screw on) the rub rails, changed from single to dual battery system, installed bigger heavier batteries & installed solar panels and regulators, and have performed basic / regular engine and raw water pump maintenance.

Thankfully I have a good honest diesel mechanic that I can call for the big jobs such as injector servicing etc.

I still have a list of jobs that I will get through in good time, such as new cabin sole, freshwater system, better toilet system, etc etc.

Here's another hint.

Birds seem to be attracted to freshly painted surfaces.
I am sure that the birds were using the cabin top for bombing practice.
I put up bunting which deterred them a bit, but where there was no bunting, they (the birds) would sit on the cabin top in total defiance or protest.
I took some polyester cord and ran it in areas where there were gaps in the bunting.
Onto the cord I attached those opaque cable ties every 6 inches or so.
The birds get very annoyed when they try and land on the boat and get tickled up by the cable ties sticking up in the air.

Another problem solved.

Anyhow enough for now, I have a date with a lovely 76 year old.