Viscount star
by Jo & Sandra
(Sugar bay nsw australia)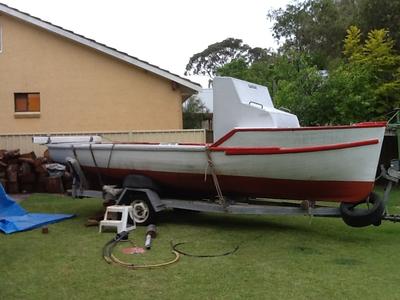 Purchased on ebay 31.12.12 $600 nsw toronto
Ex commercial swansea fishing launch 1948?
Built by James lewis boyd & son

We built cabin & cleaned up hull with scape & sand back 2 timber

We took 3 months to complete with rain & very hot days plus a trip 2 hospital

We used bondcrete 3 coats & bullyseye 123 primer 2 coats , dulux aqua enamel 2 coats & kiwi grip

Do u like?

At mechanics installing new yanmar 20hp diesel.


While the original system worked quite well as a one-off post, it didn't allow for updating or posting new photographs etc.
That is why I have introduced the new Your Pages.
This is new 'Community' platform is for 2018.
It is designed to put you in control of your content, make it easier to for you to tell us about your Wooden Boat, upload photos etc. and most of all post updates as and when you wish to.
There is also a forum where you can ask any questions you may have about Wooden Boats and join in the conversations.
So, please come on over and join our community of likeminded Wooden Boaters.