Swap 11m Motor Cruiser for Sailing Cat.
by Peter Adams
(Sydney, Australia.)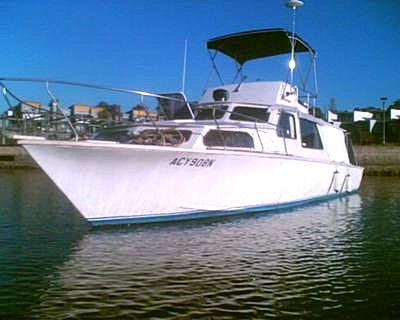 Hartley Flybridge Cruiser
Located in Sydney Australia, I have a 11m Hartley Flybridge Cruiser that needs some finishing and trim.

She has a 225volvo/chev. and leg in perfect mechanical condition.

I have done a lot of work with the intention of keeping it, but realize now that I prefer sail.

I would like to exchange for a catamaran needing work, ok.

Looking around $80k (AU).value...

What offers Syd. Bris, East Coast of Australia.

The cruiser is located Sydney. but I am in Brisbane Australia,

Email, lagoonasun@yahoo.com.au or mobile phone. 0425 205966
Return to The Boats and Bits Exchange.
Photograph Uploader
If you are having problems uploading Photos or would like to add more click on this link for the Upload Form.
You can upload as many as you like and there is no need to resize them.