Standing lug info.
by Rod McGregor
(Port Alfred. South Africa)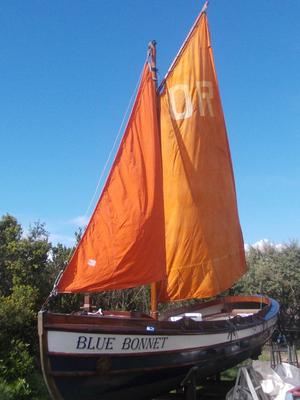 Loose footed standing lug on 27ft Navy Whaler
STANDING LUG INFO: I am restoring a Navy 3-1 27ft whaler.

When I got the ship it was a wreck and had no mast, some odd bits of rigging and two sails.

After a lot of head scratching and research I realised I had a standing lug on my hands.

So I made a mast, gaff and parel-hoist and it works like a charm.

It also looks really old fashioned which is nice for the classic appearance I was after.

If anyone needs help or advice with this kind of rig, give me a shout!

I'd hate anyone else to have to go through what I had to!

mcgregor.ahoy@gmail.com

While the original system worked quite well as a one-off post, it didn't allow for updating or posting new photographs etc.
That is why I have introduced the new Your Pages.
This is new 'Community' platform is for 2018.
It is designed to put you in control of your content, make it easier to for you to tell us about your Wooden Boat, upload photos etc. and most of all post updates as and when you wish to.
There is also a forum where you can ask any questions you may have about Wooden Boats and join in the conversations.
So, please come on over and join our community of likeminded Wooden Boaters.