Standing lug info.
by Rod McGregor
(Port Alfred. South Africa)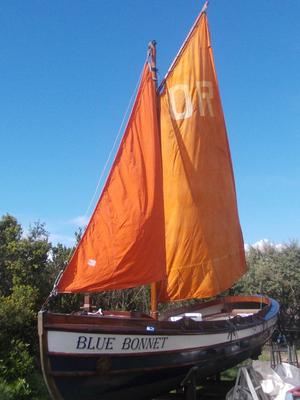 Loose footed standing lug on 27ft Navy Whaler
STANDING LUG INFO: I am restoring a Navy 3-1 27ft whaler.

When I got the ship it was a wreck and had no mast, some odd bits of rigging and two sails.

After a lot of head scratching and research I realised I had a standing lug on my hands.

So I made a mast, gaff and parel-hoist and it works like a charm.

It also looks really old fashioned which is nice for the classic appearance I was after.

If anyone needs help or advice with this kind of rig, give me a shout!

I'd hate anyone else to have to go through what I had to!

mcgregor.ahoy@gmail.com

If you wish to add more photos (or videos) to your post or if you have any problems loading photos use the link below (there is no need to resize or adjust your photos).
But please use the 'Description Box' to indicate to which post the photos belong.
Click Here to securely send your photos,