"Splash of Lime"
by Captain Chuck
(Mississippi)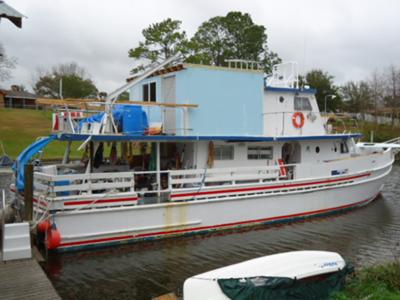 Work in Progress
1967 59'.6" Carolina (70'Overall) she was a fishing headboat (49 passengers), now converting to live aboard.

So far it is mostly original.

I have built a house on the upper deck 14' x 14' x 10' high.

The house on the upper is just built on the upper deck and only attached by nails to deck.

I know it needs to somehow needs more structural support to lower deck.

Any ideas?

Not finished, only framed and outer ply and roof with canvas over and expoxy and coated with rv thick white, 2 metal doors, and 1 sliding window so far.

I want to add big bay window port side next to bed.

The vessel size is 70' x 18'.

I'm thinking of taking it to Haiti or Mexico or (?) to have a complete remodel.

Do I buy most of what I want on boat here in Mississippi first, like furniture, kitchen appliances, etc.?

Do I buy what lumber here in U.S. or in other countries?

Will I find marine craftsmen that know about structural?

I'm told good craftsmen low cost Haiti, Honduras, Costa Rica?

The 871N Detroit's are very low hours rebuilt factory 2005-2006.

The hull is glass over wood and the diver says sound?

I want to expand the lower deck to be one large room and divided into a modern look.

So I start soon on my new adventure.

I hope to leave Mississippi by May 15th, 2011.

I have a lot of work to do in the next few months while I am cruising and hope to enjoy all the while.

I am 71 have been a Licensed Capt since 1985, but did not renew 2000.

I have been in all the waters coastal from Dutch Harbor,AK to Mexico and everywhere in-between.

Also Miami to Key West.

Key West to Mississippi.

Now I want to head to Costa Rica, Panama, maybe Sea of Cortes, but may stay Costa Rica?

Sea of Cortes would be closer to family, but not sure of the weather and where I can drop the hook for free.

I want nice place to retire, live on the hook, nice cove, near a small town, nice people, no Hurricane's.

Run the gen set, some solar.

Any advice out there,

Thanks.

I started a personal website at cruisingwaterworld.com/70 and will add to it when I get the time, right now just in beginning stages.

Hoping to get it all working one of these days.

Not sure blogs work yet.

Thanks for looking and any help.

Capt. Chuck


While the original system worked quite well as a one-off post, it didn't allow for updating or posting new photographs etc.
That is why I have introduced the new Your Pages.
This is new 'Community' platform is for 2018.
It is designed to put you in control of your content, make it easier to for you to tell us about your Wooden Boat, upload photos etc. and most of all post updates as and when you wish to.
There is also a forum where you can ask any questions you may have about Wooden Boats and join in the conversations.
So, please come on over and join our community of likeminded Wooden Boaters.