"Snow White"
by lawrence
(st john's nl canada)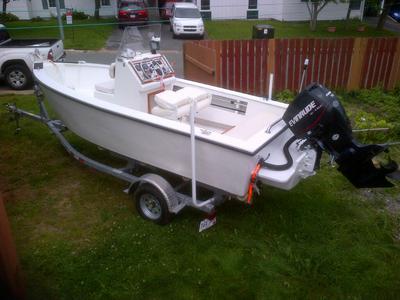 'Snow White" is a ~16' version of Sea Angler from svensen's free wooden boat
plans.
It was modified from a cabin cruiser to a center console fishing boat.
An engine pod was also added which extended the LOA to 17' 4 ".
Presently it has a 75hp evenrude etec outboard.
The build has taken 5 years to complete in my spare time.
Constructed of fiberglass over wood.
Hull frames were made of oak and sheeted in meranti plywood.
The floor and decking was made from 3/4 ply and fiber glassed over.
All fastening was done with epoxy resin, stainless steel and brass screws.
The completed hull was later gel coated as was the floor and pod.
While the original system worked quite well as a one-off post, it didn't allow for updating or posting new photographs etc.
That is why I have introduced the new Your Pages.
This is new 'Community' platform is for 2018.
It is designed to put you in control of your content, make it easier to for you to tell us about your Wooden Boat, upload photos etc. and most of all post updates as and when you wish to.
There is also a forum where you can ask any questions you may have about Wooden Boats and join in the conversations.
So, please come on over and join our community of likeminded Wooden Boaters.