"Snow White"
by lawrence
(st john's nl canada)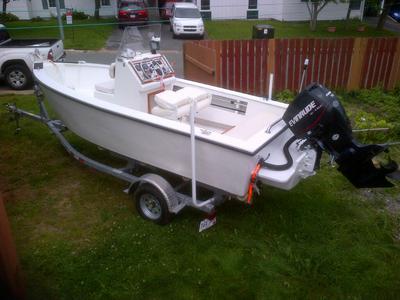 'Snow White" is a ~16' version of Sea Angler from svensen's free wooden boat
plans.
It was modified from a cabin cruiser to a center console fishing boat.
An engine pod was also added which extended the LOA to 17' 4 ".
Presently it has a 75hp evenrude etec outboard.
The build has taken 5 years to complete in my spare time.
Constructed of fiberglass over wood.
Hull frames were made of oak and sheeted in meranti plywood.
The floor and decking was made from 3/4 ply and fiber glassed over.
All fastening was done with epoxy resin, stainless steel and brass screws.
The completed hull was later gel coated as was the floor and pod.