Small vintage wooden dinghy made in 2 parts.
by Warren
(South Alabama)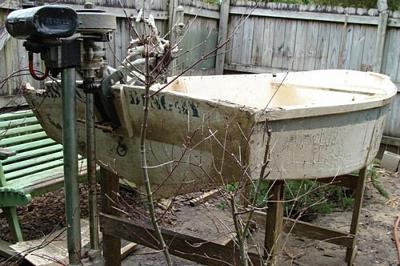 I was given a small vintage wooden dinghy made in 2 parts and needing restorations.

This dinghy, like I said, is made in 2 parts, and has a joint in the middle where the 2 pieces bolt together.

There's a seat that fits over the joint which hides it.

It has a mast step, a sail, but no mast.

keel-less design.

It has great lines and is probably from the 1940's 0r 50's, is made of plywood with solid wood trim and fine bronze fittings.

With a reinforced motor mount and a very cool looking vintage outboard motor that I believe is English (not sure).

Is there any way to find out about this boats design?

Or is it just an ordinary homemade job?

Anyone ever see a vintage dinghy built in 2 pieces?


While the original system worked quite well as a one-off post, it didn't allow for updating or posting new photographs etc.
That is why I have introduced the new Your Pages.
This is new 'Community' platform is for 2018.
It is designed to put you in control of your content, make it easier to for you to tell us about your Wooden Boat, upload photos etc. and most of all post updates as and when you wish to.
There is also a forum where you can ask any questions you may have about Wooden Boats and join in the conversations.
So, please come on over and join our community of likeminded Wooden Boaters.