Skin on frame catboat?
by Zach
(Saint Joseph Michigan)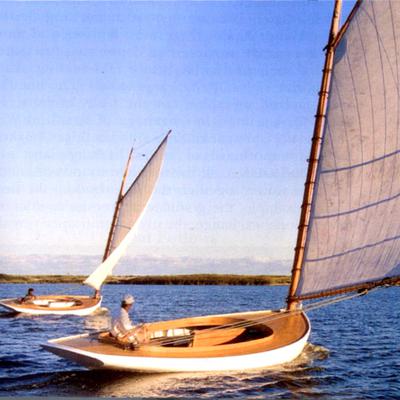 Hello DIYhard boat builders! I'm back again with another question.

Last summer my daughter and I built the Bolger dory and much rowing ensued.

We explored up and down the river and had lots of daddy daughter time.

My shoulders aren't ready for the onslaught this year...
Which brings us to the present.

My kiddo wants badly to build again.

Like a budding naval architect she is talking about building an 18 foot cat boat.

Last year almost killed me.

I had no idea how to build a boat before we started and we pulled through.

This year?

I was hoping to use the easy button.

SO here is my question:

Can I build this thing as a skin on frame boat?

I know she won't carry much sail because she'll be light and won't draw much water but I think it would be the fastest way from start to finish.

I thought it would be clever to have a small ring of thin deck around the edge to hide our positive boyancy.

I was hoping this would weigh in less than 100 pounds as well - at least the hull.

I can make all the parts come off/out.

Our experiences with the dory and trailer have been less than fantastic and I would prefer to car top.

The design she has picked out is the south bay cat boat.

Any and all comments, questions, howls of indignation, and (hopefully) simple pictures with labels and instructions are welcome.

See above the boat she wants to build. (Gilbert Smith's Great South Bay Catboat (images © WoodenBoat magazine))





Photo Uploader

If you are having problems uploading Photos or would like to add more click on this link for the Upload Form.
You can upload as many as you like and there is no need to resize them.