SIGI
by Howard
(Virginia)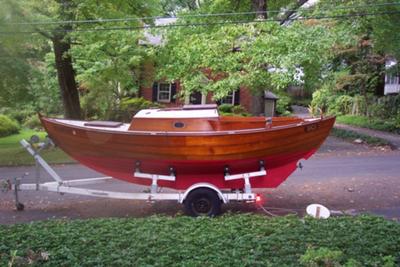 "Sigi" is a 20' clinker built, cedar on oak frame.

She was built by Chip Stulen in the early 1980s but has spent the past 25 years high and dry in my deceased uncle's barn.

She's quite dirty still but otherwise in good shape (I believe).

The vintage, hand start Kenmare Sea Twin inboard had been removed from the boat.

I'm currently replacing it with a 100 DBL electric system from Electric Yacht, Inc.

She should be ready to get her keel wet again in April.


While the original system worked quite well as a one-off post, it didn't allow for updating or posting new photographs etc.
That is why I have introduced the new Your Pages.
This is new 'Community' platform is for 2018.
It is designed to put you in control of your content, make it easier to for you to tell us about your Wooden Boat, upload photos etc. and most of all post updates as and when you wish to.
There is also a forum where you can ask any questions you may have about Wooden Boats and join in the conversations.
So, please come on over and join our community of likeminded Wooden Boaters.