Self Esteem and Dry Rot
by Susan P Gateley
(Wolcott, NY, U.S.A.)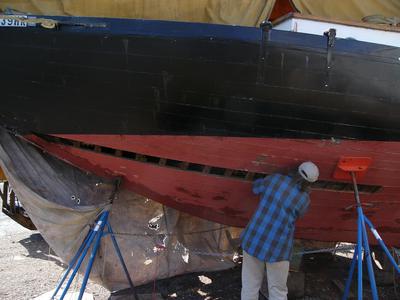 This story is one of a dozen or so boating 'yarns' I recently posted at
http://www.spg.patchnpost.com/4/index.htm

Some boat tales and winter reading for the land bound.

Nearly all the boat tales on line here involve woodies, many of them feature Sara B the 38 foot Tancook schooner detailed in my sailing memoir "Living On The Edge".

Self Esteem and Dry Rot

There's been a fair amount of verbiage in the social media lately on the general
"the country's going to hell in a hand basket" theme.

Some say it's because we lack self esteem and a strong sense of our own personal worth.

I have a possible solution that will either lead to a whole lot of frustrated people and nationwide air quality degradation from millions of impromptu bonfires, or, if all goes well, a nation of smiling confident self-reliant folk who feel absolutely great about themselves.

Go beg, buy, borrow or build yourself a wooden boat.

I learned about boating back in the late 1960.

Although by then fiberglass boats
were the rule, my budget minded father's first boat was biodegradable.

Being on a budget,I too sought out a similar vessel for my first boat.

Today forty five years later, I 'm still sailing a woodie.

Over the years I've added to my fleet.

An old lapstrake rowing skiff, a home made
canvas covered kayak, and a 14 foot plywood Bolger Sweeet Pea are among the current holdings.

They've all been tremendous sources of self esteem.

For some people merely mastering the mysteries of marine plumbing , balky outboards, or the art of finding one's way across the featureless water to a desired destination guided by that magical black box called a GPS might be an ample ego booster.

But if you really want to feel good about yourself, there's nothing quite like dry rot.

Dry rot is an affliction that spares boats of modern man made organic polymer.

For vessels created from nature's original organic polymer, cellulose, its a definite hazard to their health.

Cellulose consists of a whole mess of sugar molecules holding hands to make a piece of wood.

And to dry rot fungus those sugars are just as tasty as a Mars Bar.

Well, I know fungi have to live too.

But why can't they stick to digesting old outhouses and the stuff in my refrigerator?

The only effective cure for dry rot in a boat is surgical removal and replacement with a chunk of new rot free cellulose.

That's where the self esteem building comes in.

Figuring out how to do that for people who are not carpenters is A Problem.

Maybe not as tough as building the bomb or keeping the economy going, but for folks whose idea of fine woodworking is a pint of epoxy and some sawdust, it's a challenge.

Meeting that challenge and gloating and bragging about the end result, be it a new bilge stringer, garboard butt, or cabin side, is a splendid source of self esteem.

By golly I did that you can say, (assuming you do manage to figure it out.)

Now if this idea of mine takes hold, it'll have a number of nation wide benefits.

First, It'll cut down on boatyard clutter.

People will take all those tired old boats home to work on.

It'll also help keep the economy clicking along as millions of self-esteem seekers purchase epoxy, oak, canvas and wood preservatives and buy books to tell them how to do it.

The movement will also create several thousand new jobs for recent psychiatry
school grads as, let's face it, not everyone will succeed in completing his or her project.

And we'll get rid of a lot of useless old trees to make room for more highways and shopping malls.

Say this thing could really be BIG.

I feel good about myself just thinking about it.

Anyone out there want to buy a wooden boat?

I have a couple for sale right now.