Sea Hymn
by Norm Auriat
(Nanaimo, British Columbia)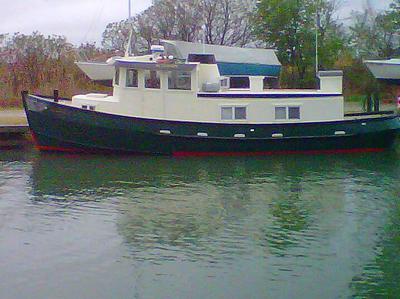 "Sea Hymn"

The boat design is by Charles Wittholz and was designed as a 40 ft, but he was induced to design a 3 ft extension giving it a rounded stern.

The individual that started building the boat in Savannah, Ga. died with the craft not completed.

The boat had not been watered until 2010/ June.

I bought it in Nov/09 and trucked it to Sarnia, On. and then a lot of remedial work was started and completed.

Redid all of the bulwarks, built a wear deck over the lower cabin roof, gutted the front focsle and installed a 10in bowthruster and rebuilt the bunk and head.

Completely rewired and installed a 3000 watt inverter, ripped out the galley and completely redid it with apartment gas stove ,110 va refrigderator, double sink, microwave and convection oven, washer/ dryer.

Added a new Simrad radar, sounder, chartplotter, and auto pilot, and last but not least a Good Automatic Windlass.

I also discovered some soft spots in the hull and these were removed and redone along with areas on the deck.

The boat is cold moulded and when you first think of how hard it will be to repair but, after you start and get into it you realize what easy and user friendly system it is.

I then loaded the boat and trucked it to Blaine , Washington where Seahymn lives today in it's own boat house.

The end of the story for now.