Saucy Shingle / Tiny Titan
by Ken
(England)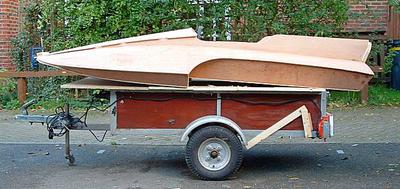 I built this boat in 2013 in Kent, England, while my wife was at a health resort in India.

I lofted the plans full size from the tiny magazine drawings on the afternoon that she left the UK and started the build that night.

The build took me just 52 hours in all, and the boat cost under £100 GB including a glass fibre seat, kart steering wheel and alloy transom plate.

Build was from marine plywood with epoxy glues.

The steering drum was constructed from a redundant ice hockey puck and works a treat!

I finished the construction on the evening before my wife returned and she was amazed to see the boat.

She was even more amazed to see that I had also built a Mini Most for her, alongside the Titan ~ two boats built at the same time!

These boats are rare in the UK, where we have very strict speed limits on rivers and lakes.

However I live close to sheltered tidal water where the boats can be enjoyed to their full potential.


While the original system worked quite well as a one-off post, it didn't allow for updating or posting new photographs etc.
That is why I have introduced the new Your Pages.
This is new 'Community' platform is for 2018.
It is designed to put you in control of your content, make it easier to for you to tell us about your Wooden Boat, upload photos etc. and most of all post updates as and when you wish to.
There is also a forum where you can ask any questions you may have about Wooden Boats and join in the conversations.
So, please come on over and join our community of likeminded Wooden Boaters.