Samphire
by Mike
(UK)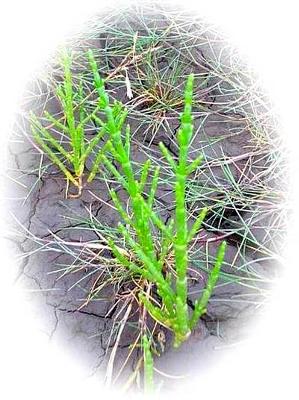 Marsh Samphire
Marsh Samphire (Salicornia, Glasswort, Pickleweed or Poor Man's Asparagus) lives Just below the high tide line where only the highest tides wash over it.

It tastes rather like salty asparagus and can be eaten raw, when young or cooked.

It is excellent as an accompaniment to any seafood.

Wiser heads than mine have suggested that the word Samphire is a corruption of the French for St. Peter, the patron of fishermen.

So, it is very appropriate that Marsh Samphire grows along the banks of the 'St. Pierre Pill' the creek where I have my boat moored.

What used to be called the poor mans Asparagus and was once given away for free in fish and chip shops in the UK is now being sold for a small fortune in trendy gourmet restaurants and delis.

Fortunately for us we can still enjoy this delicious and uniquely satisfying crunchy vegetable for free.

It only takes a few moments to gather enough for a meal.

Marsh Samphire, Salicornia europaea is a succulent plant of the salicornia species, and looks like a miniature cactus, without the spines.

Samphire is rich in oils and protein and is reputedly a natural carminative, depurative, digestive and diuretic, whatever all that means.

The vibrant green stalks, similar to baby asparagus, have a distinctively crisp and salty taste.

It can be used raw in salad, boiled or steamed for a few minutes or pickled.

The young tips are tender and can be eaten raw.

As the plant matures towards the end of the season it acquires a very thin fibrous core.

The traditional way to eat the older stems was to hold them by the base, dip them in melted butter then strip off the flesh by pulling them through your teeth.

You can 'Pick-Your-Own', fresh along the edge of the tidal zone, just below the high water mark. anytime from July to August.

Simply pinch out or snip off the tops of the plants, leaving the fibrous roots in the ground so that, hopefully, what you've left in the mud will continue to grow.

Samphire is naturally salty so wash well in cold water before use.

Then simply blanch the samphire in boiling unsalted water for one or two minutes then drizzle with olive oil and lemon juice and a dash of black pepper.

You can even add samphire to pasta and rice dishes.

To pickle samphire gather the young green shoots at the end of July before it flowers.

Chop into short lengths, lay it on a dish and sprinkle with dry salt.

Leave for 24 hours.

Then cook gently for a couple of minutes in enough plain vinegar to just cover it.

Cook until tender but don't allow it to get soft.

Finally seal securely in hot jars.

Bon appetite!