Replacing wooden rails on canoe
by Lawrence
(Canada )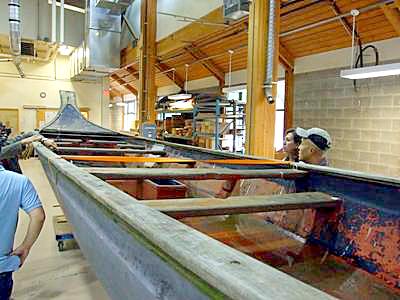 I`ve been asked to help with the wood restoration of this 50ft Hybrid canoe.

I have worked on all sorts of wooden projects, and I am trying to determine the proper approach to replacing the rails.

The options I have come up with so far are:


Steam bending (some of those section would have to be 10'+ long)


Laminating and using epoxy


or green lumber (which would be possible in local softwood species) Like yellow or clear red cedar.


Any help is greatly appreciated
While the original system worked quite well as a one-off post, it didn't allow for updating or posting new photographs etc.
That is why I have introduced the new Your Pages.
This is new 'Community' platform is for 2018.
It is designed to put you in control of your content, make it easier to for you to tell us about your Wooden Boat, upload photos etc. and most of all post updates as and when you wish to.
There is also a forum where you can ask any questions you may have about Wooden Boats and join in the conversations.
So, please come on over and join our community of likeminded Wooden Boaters.