Refurbishing a compass
by Stuart Warden
(Cape Town, South Africa)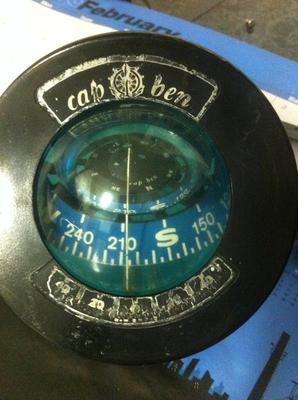 Although this posting is not strictly a wooden boat issue, I would like to restore a Cap Ben bulkhead compass from an old boat I am restoring and hope someone out there could assist?

The main problem with old compasses I have seen and read on the web, is that some of the fluid leaks out and others get bubbles.

Various comments about what fluid to use are debated e.g. white spirits and others, some say rather go back to the manufacturers.

My Cap Ben has some bubbles but not too serious, also need to know what the level of the fluid should be?

In the second photograph the fluid level is about 85%.

Finally, the three miniature lamps are not working so need to be replaced, maybe with small LEDs?

There is also a small module with 2 wires stuck with silicon near the top lamp- no idea what this is?