PM-38
by Terry McIntyre
(Morgan Hill, Ca, USA)
I built a PM-38 in 1962-63.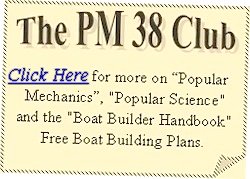 I built the frames in high school wood shop, then finished the boat at home in the garage.

Ran it all through college, and then it just kind of fell apart - I didn't use the best quality materials, and I may have actually spent $38 on the thing.

Had to make some transom mods to match the 20" shaft outboard that I had gotten my hands on cheap!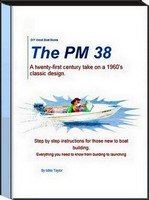 Step by step instructions for building the PM 38 using modern plywood building techniques and materials.

The picture must have been taken right after I got it finished in May of '63, note that it doesn't have registration numbers on it yet!

I've built 2 others, a Glen-l Rebel and a Jet Squirt, and I'm seriously considering building another -38, bookends of my boating life....