PM 38
by Carl Mouton
(Durban South Africa)
I retired in 1990 as a South African Architect.

In 1962 I was working in Aden in what is now part of Yemen.

Woodwork has always been a passion of mine and living there in a Flat I really missed my workshop.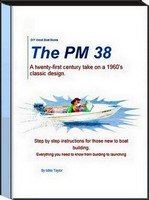 Step by step instructions for building the PM 38 using modern plywood building techniques and materials.
>>>>

The plans for the PM 38 really caught my interest and on showing it to my employer he challenged me to build it.

I managed to find an empty Garage close by and got going on the build.

Spare time was limited but I managed to build the boat in just over a month using mainly hand tools.

On completion I fiber-glassed the boat to preserve it.

After the build one of my staff, who was an expert on boats tested it and was amazed at the performance.

He did however ask me to increase the size of the two strips at the bottom (The correct name eludes me) and re tested the boat.

He said that of all the boats that he had tested and used in the UK none compared with the PM 38.

After completion my employer took it over from me and sent it to Beirut, where we also had an office, for him to use there.

Sadly I never got to Beirut so I never had the joy of using it.

Just before I retired I tackled the task of building a 47 foot Ocean Going Motor Sailer which I completed in 8 years in my spare time.

I think that now that I have found the plans again I may build another PM 38

Carl Mouton
e mail carlfmouton@gmail.com


Join in and write your own page! It's easy to do. How? Simply click here to return to Your Wooden Boat Projects...
Want to add more photos?