Mytilene
by Beth Haskell
(Brooklyn, NY)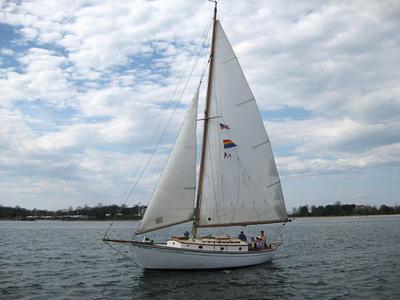 Built in 1936 by the Palmer Scott yard in Fairhaven, Mass.

She is cutter rigged with a roller furling Yankee jib, staysail and main.

She was built on spec by the Furnans Yacht Agency as a weekend cruising boat for average folks.

LOD 27'4", LOE 35'10", LWL 23'8', Beam 9'8", Draft 4'9", 5.5 tons.

Extra length from bowsprit and boomkin.

Her hull is mahogany on oak frames with bronze screw fastenings.

The keel is cast iron.

The deck is cedar covered with fiberglass.

I have owned her since 1994 and done most of the work myself with professional help when needed.

Major projects completed in those years include laminating 18 new bow frames in place from the stem to above the waterline, replacing the iron stem bolts with bronze, replacing 16 planks, professional recaulking, professional replacing iron keel bolts, professional replacing the stem, building wooded main and forward hatch covers, replacing cockpit sideboards,

Professional replacement of 30 hp Yanmar diesel.

She sails out of Oyster Bay, Long Island North Shore.

She's heavy and stable, never get the rail in the water, but moves along well in a good breeze.



While the original system worked quite well as a one-off post, it didn't allow for updating or posting new photographs etc.
That is why I have introduced the new Your Pages.
This is new 'Community' platform is for 2018.
It is designed to put you in control of your content, make it easier to for you to tell us about your Wooden Boat, upload photos etc. and most of all post updates as and when you wish to.
There is also a forum where you can ask any questions you may have about Wooden Boats and join in the conversations.
So, please come on over and join our community of likeminded Wooden Boaters.