Miss Janet
by Chris Mills
(Reedville, Va.)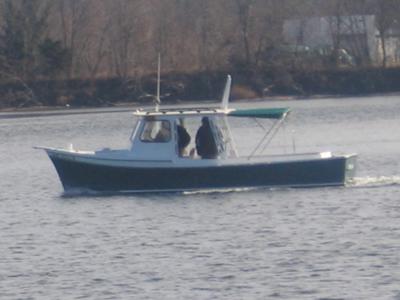 cruising Cockrell Creek
Chesapeake Bay Deadrise
I purchased Miss Janet January 29 this year.

She is a 1979,26 foot 9'beam Chesapeake Bay deadrise.

Built by Fred Ajootian in Ocran, Va.

Although I started looking for a more classic workboat in the 40 ft range, small "booby" cabin, this short version with more cabin space will better suit me.

No restoration needed but have a few ideas to suit the local cruising and crabbing I'll do.

Rear steering post, a fridge for cocktail cruises for our B&B guests, and light cosmetic work is all that's needed for our first summer.

Powered by a 50 hp Perkins, she is slow but steady...and economical.

Survey and sea trial went well so she's home at our dock in Reedville, Va.

Planning to show her off in vintage boat show here in September.

Chris Mills
Grandview B&B
Reedville, Va.


While the original system worked quite well as a one-off post, it didn't allow for updating or posting new photographs etc.
That is why I have introduced the new Your Pages.
This is new 'Community' platform is for 2018.
It is designed to put you in control of your content, make it easier to for you to tell us about your Wooden Boat, upload photos etc. and most of all post updates as and when you wish to.
There is also a forum where you can ask any questions you may have about Wooden Boats and join in the conversations.
So, please come on over and join our community of likeminded Wooden Boaters.