Miss Janet
by Chris Mills
(Reedville, Va.)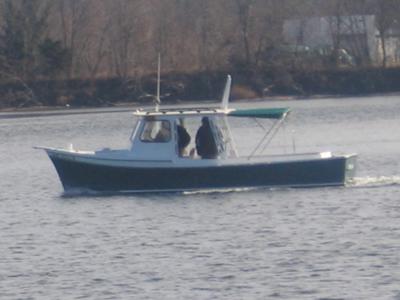 cruising Cockrell Creek
Chesapeake Bay Deadrise
I purchased Miss Janet January 29 this year.

She is a 1979,26 foot 9'beam Chesapeake Bay deadrise.

Built by Fred Ajootian in Ocran, Va.

Although I started looking for a more classic workboat in the 40 ft range, small "booby" cabin, this short version with more cabin space will better suit me.

No restoration needed but have a few ideas to suit the local cruising and crabbing I'll do.

Rear steering post, a fridge for cocktail cruises for our B&B guests, and light cosmetic work is all that's needed for our first summer.

Powered by a 50 hp Perkins, she is slow but steady...and economical.

Survey and sea trial went well so she's home at our dock in Reedville, Va.

Planning to show her off in vintage boat show here in September.

Chris Mills
Grandview B&B
Reedville, Va.