MATILDA, 8m wooden sloop.
by Alan Kenworthy
(Heywood, Lancashire)
My mystery wooden sloop, MATILDA, 8m wooden sloop made in East Anglia

8m swing-keel, from East Anglia.

Can anybody recognise her?

I only know she was in Wisbech then Gainsborough on the Trent, before that on the GT Ouse and maybe the Broads.

Superb quality build, someone's pride and joy.

Does anyone recognise this beautifully made and finished interior?

The cushions upholstery are gold-green.

There is a central sheath housing the swing-keel.

Motor was a Nanni diesel 10hp, mounted on starboard side of centre keel housing (unusual).


My Previous Wooden Boats
by Alan Kenworthy
(Heywood, Lancashire)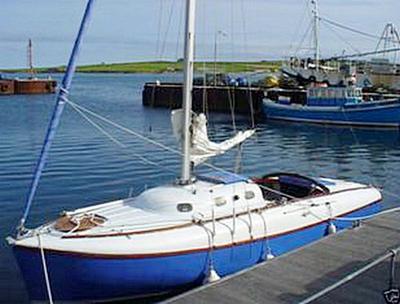 FAIREY ATALANTA NO 58
FAIREY ATALANTA NO 58

Famous Uffa Fox design, made by aircraft builders of Mosquito and swordfish fame.

Hot-moulded mahogany, light dispalcement , with twin drop keel, and amazing yacht well ahead of its timeo.
Pictured in Orkney, after I sold her.

And

RED DWARF at Balaruc-les-Bains five years ago.

Towed it there from Santander over the Pyrenees.(shades of Tristan Jones!)

Difficult to assemble, difficult to raise and adjust rig, horrible pokey cabin, tiny cockpit.

I rigged a little tent on the trampoline as sleeping quarters.

OK for a young man maybe.


While the original system worked quite well as a one-off post, it didn't allow for updating or posting new photographs etc.
That is why I have introduced the new Your Pages.
This is new 'Community' platform is for 2018.
It is designed to put you in control of your content, make it easier to for you to tell us about your Wooden Boat, upload photos etc. and most of all post updates as and when you wish to.
There is also a forum where you can ask any questions you may have about Wooden Boats and join in the conversations.
So, please come on over and join our community of likeminded Wooden Boaters.