Maldivian 'Bokkura'
by Supergaijin
(Laamu Atoll)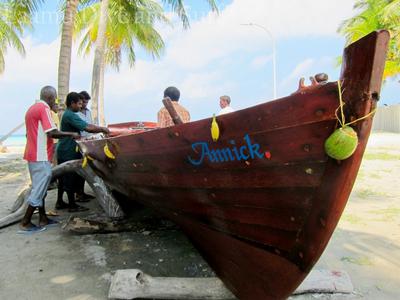 Maldivian 'Bokkura'

Based on a dhow design it was constructed in the mid-90's from coconut wood.

I stripped the old paint down and tidied it up as best I could, using stained marine varnish.

Launch time for the Maldivian 'bokkura'.

Coconuts are used throughout the Maldives for fibre, food and 'blessing ceremonies'.

Right about now I was thinking I should have gone for a fibreglass boat instead.

Lateen sails make for an interesting ride.

A bad tack means we have to lift the yard over the mast

Gusty winds are problematic.

No keel as they're designed to move over shallow reefs, and no way to reef the sail.

This requires a decision about sail size before taking her out.

But she's all worth it on the water.




If you wish to add more photos (or videos) to your post or if you have any problems loading photos use the link below (there is no need to resize or adjust your photos).
But please use the 'Description Box' to indicate to which post the photos belong.
Click Here to securely send your photos,