LYMAKA
by Owen
(Everett, WA.)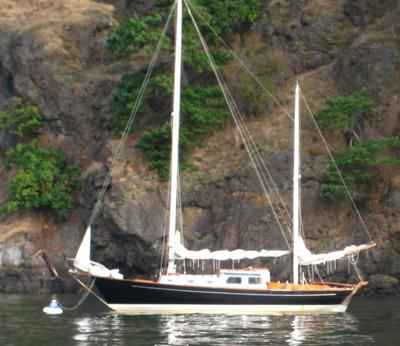 Lymaka at anchor in San Juan Islands
Lymaka is a 1963 Herreshoff H-28, with the bow sprit the total length is 31.5 ft.


I bought her February 11 2012 and I am already working on bringing her to show condition.
The interior is being remodeled to fit my needs and will have all the 12v re-done so I know every wire and fuse in the entire boat.
This is my first all wood sailboat and while I have had 5 other sailboats (all glass)I am already finding that working on wood boat is much easier.
I will post more pictures but within the next 3 months I am expecting a huge transformation into a head turning sailboat at every marina I visit.
While the original system worked quite well as a one-off post, it didn't allow for updating or posting new photographs etc.
That is why I have introduced the new Your Pages.
This is new 'Community' platform is for 2018.
It is designed to put you in control of your content, make it easier to for you to tell us about your Wooden Boat, upload photos etc. and most of all post updates as and when you wish to.
There is also a forum where you can ask any questions you may have about Wooden Boats and join in the conversations.
So, please come on over and join our community of likeminded Wooden Boaters.