Look at this neat custom build
by Bob
(Boston, MA USA)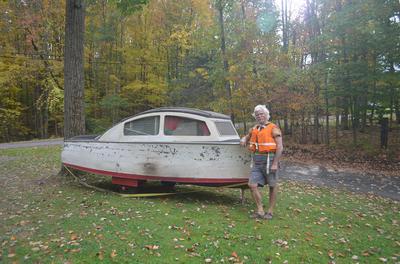 Looking to get help on identifying this boat.


Not sure if it was a kit boat, custom boat or production boat....circa 1960, 1961 per previous owner.
Wheel are attached to hull & has a hitch coupler attached to the bow (water line area)........so in a sense it's a boat & trailer in 1!
Looks like the wheels retract when in water......
Thanks
While the original system worked quite well as a one-off post, it didn't allow for updating or posting new photographs etc.
That is why I have introduced the new Your Pages.
This is new 'Community' platform is for 2018.
It is designed to put you in control of your content, make it easier to for you to tell us about your Wooden Boat, upload photos etc. and most of all post updates as and when you wish to.
There is also a forum where you can ask any questions you may have about Wooden Boats and join in the conversations.
So, please come on over and join our community of likeminded Wooden Boaters.