Lindy
by Bill Shattenberg
(Juneau Alaska)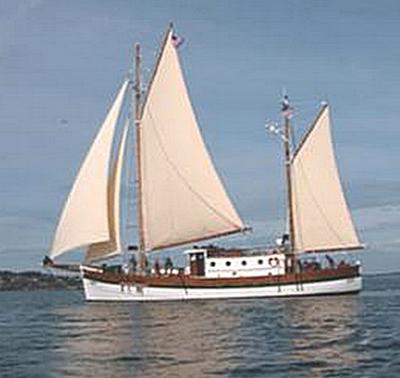 Lindy was built for the British Admiralty in 1944.

She found me in 2000 in Charleston S.C. Navy shipyard.

We went to the Bay Islands in Roatan Honduras and replaced the decks, deckbeams, top 3 feet of planking, frame heads,stanchions, bull works, mast and rigging.

Now for the past three years I have been working with Sean Rankins at Northwest Sails in Port Townsend Wa. to build a new sail rig for her.

Rig was designed by Kit Africa, Sails and Mast built by Sean Rankins and the N.W. Wooden Boat Building School at Port Hadlock Washington.

Students built the mast , blocks, and sails.

Owner Bill Shattenberg compleated the commissioning and fitting of the new rig with help from students and instructors at the North West School of Wooden Boat Building.

It has been a great experence over the last two years.

Now "Lindy" will sail back home to Juneau Alaska.


While the original system worked quite well as a one-off post, it didn't allow for updating or posting new photographs etc.
That is why I have introduced the new Your Pages.
This is new 'Community' platform is for 2018.
It is designed to put you in control of your content, make it easier to for you to tell us about your Wooden Boat, upload photos etc. and most of all post updates as and when you wish to.
There is also a forum where you can ask any questions you may have about Wooden Boats and join in the conversations.
So, please come on over and join our community of likeminded Wooden Boaters.