LICENSED 72 ft CHARTER YACHT BUSINESS LANGKAWI ISLAND
by Dr Hugo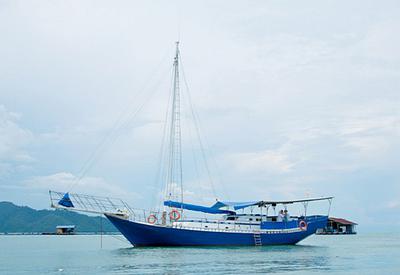 CLASSIC CRUISING / CHARTER YACHT FOR SALE
Classic 72ft/40 ton Yacht built by best of Bugis boat builders, Bonerate, Sulawesi
Supervised construction to maximum specs, massively strong Vitex coffasus/Gofasa timber
Best quality hardwood & ironwood: "Kayu Biti" & "Kayu Besi"
Hull planking & framing twice the standard size with over 1500 304 & 316 S/S bolts
Unique design, custom-built as a "100-year hull" - will last even longer with TLC!
Full length 12 m. ironwood extended keel. Constructional integrity guaranteed!
Meticulously maintained, consistently upgraded, excellent cruising condition
LOA: 72ft/21m;
LOD: 55ft/16m;
LWL: 45ft/13.7 m;
Beam: 17ft/5m;
Draft: 6ft/1.8m
Ford Marine Diesel 6 cylinder 120 HP - 7 litres @ 7 knots = 1 litre per nautical mile
Generator: 3 cylinder 21 HP Kubota Diesel & Denyo 3 KW/220 v. - 1 litre an hour
Cruising Generator: Denyo 3 KW/220 v. double pulley belt driven off main engine
500 Watt Inverter - 12 v. to 220 v. for charging electronic devices
Decks sealed with fibreglass, hull sealed with Jotun epoxy marine coatings
Strong S/S Safety Railing & anti-slip decks.
Shore Power socket, plug, cables, gauges & circuitry
Maxwell 3500 lb Anchor Windlass (NZ)
Anchors - Bruce 30 kg & CQR 35 kg, brand new galvanised anchor chain (30 m. extra)
Sea water anchor wash-down pump
Auto Float Switch Bilge Pump, plus extra bilge pump
VHF Radio (Icom), Electric Marine Toilet (TMC), On-deck CD Stereo (Pioneer)
Compass, Aircon, Fans, LED lights
Brand New Cockpit Depth Sounder - Raymarine UK
Brand New Bronze Transducer - Airmar USA
Brand New Heavy Duty Batteries 200 AH x 3 (600 AH), lots of space for more
Brand New 12 volt Battery Charger
Brand New Bronze Thru-Hull Fittings with opening gates (4 sets)
Brand New Bronze Cutlass Bearing
Brand New Underwater Zinc Anodes (8 pcs.)
Brand New Electric Engine Oil Lift Pump for easy and fast oil changes (12 v.)
Brand New Heavy Duty 220 v. Changeover Switches for . . .
(1) Shore Power (marina/shipyard/portable generator)
(2) Genset
(3) Cruising Genny
Brand New 10-Man Life Raft – Inspection Certificate valid to Sept. 2020
35 Life Jackets, 4 Life Buoys & Flashing Lights, Search Spotlight, Int. Signal Flags
Parachute Rockets, Hand Flares, Smoke Signals, Fire Extinguishers (7), First Aid Kit
Diesel fuel 1000 litres, freshwater 500 litres, plenty of storage space for more
Offering Full Buffet & Free Flow Bar Island Cruises, Cocktail Cruises, or BYO F & B
Complete galley accessories for preparing charter food, cooker, fridge/freezer
Freshwater auto pumps & taps in galley, toilet wash basin & on-deck shower
Full deck cushions, awnings, large shady roof, 3 large ice boxes
Strong stainless steel swimming/boarding ladder, 2 extra small PVC dinghies
500 Watt Spotlight for night squiding & fishing
Tools & power tools, spare parts, fenders, ropes, sails, all essential & extra equipment
Masks, snorkels, fins, towels, blankets, pillows, deck mattresses, fishing gear included
Plenty of space to carry dive tanks, compressor, surf boards, kayaks, etc.
Or refit to suit personal requirements
Stable, spacious, clean & comfortable
Very seaworthy - sailed 25,000 nautical miles: Indonesia, Singapore, Malaysia, Thailand
High Cargo Carrying Capacity - designed & built to handle 30 tons!
Charter License for Langkawi Sunset & Day Cruises
Passed All Safety & Insurance Surveys by Malaysian Marine Department
Marine Insurance: P & I for up to USD 400,000 (RM 1.6 M)
KLW Registration (Langkawi) for 12 Passengers + 2 crew (extra crew permitted)
Extra PASSENGER CERTIFICATE (PC) for 25 Passengers + 5 Crew (Value: RM 50,000)
Safety Plan, Evacuation Plan, Trim & Stability Booklet/Inclination Test certified by MD.
Licenses & Certificates all valid to 09/2020, renewable no problem
Convenient & safe 17-metre berth at Royal Langkawi Yacht Club, 24-hour Security
Marina facilities: water, electricity, bathrooms, swimming pool, restaurants & bars
Dry-docking for 14 days annual routine maintenance at Satun, close to Langkawi
Fully serviced & anti-fouled April 2019 at Thai Phithak Shipyard & Services (PSS)
Full hardstand inspection invited on next haul out - early February 2020
Booming Langkawi tourism market, local & international guests
Check out Hallelujah Langkawi Cruises on the Net:
www.hallelujahyachtcruises.com
Read our "Excellent 5 Star" Trip Advisor Reviews!
Unique opportunity, healthy lifestyle, full training & ongoing support provided
New Owner/Operator's Manual: A Complete Guide covering Boat, Business and Cruises
Easy to learn and maintain, all straightforward, no hi-tech systems on board
Malaysians eligible to be captain based on crew experience & short CoC course by MD
Or relocate to Phuket, Singapore, Bali, other Malaysian ports, or elsewhere
Re-register under foreign flag standard procedure, not an issue.
Foreign ownership OK
Suitable for immediate live aboard private cruising and/or chartering
Original owner/designer/captain retiring but on standby.
Price reduced! Asking RM 555 K
Email: hallelujahcruises@gmail.com
WhatsApp/SMS/Call: (+6) 012-498-0377
Ask for Dr Hugo
Welcome aboard The Good Ship HALLELUJAH!
See and read more at Indonesian Classic Wooden Boats