Le Marie-Anne
by Gabriel
(Montréal, Québec, Canada)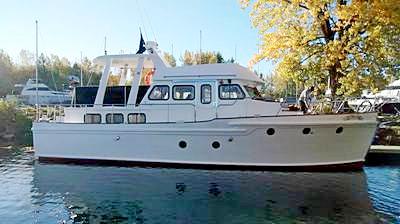 Here is my beautiful trawler,

The "Marianne" was built in 1947 Pointe-aux-Trembles in Montreal.

She is made of mahogany and white oak structure.

2 diesel engines Cummins for a displacement of 9 knots, total length of 43 '.

We mainly travel on the St. Lawrence River but I would make him relive the Bahamas!




Join in and write your own page! It's easy to do. How? Simply click here to return to Wooden Boat Projects...
Want to add more photos?
Photo Uploader

If you are having problems uploading Photos or would like to add more click on this link for the Upload Form.
You can upload as many as you like and there is no need to resize them.