Keeping Your Brass Work Bright
by Shane Granger
(Historic Vessel Vega)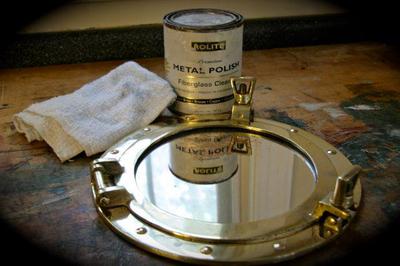 Take the drudgery out of keeping your brass work bright

Over the years we have heard so many myths and legends about brass I could write a book about that alone.

Did you know the Royal Navy used pipe clay and chalk powder for fine polishing?

In any case when faced with a thick layer of verdigris on your brass or bronze do not start rooting around right away for the Brasso can, unless you are in the middle of a very long boring passage with nothing better to do than rub brass for hours at a go.

I suggest you get some cheap vinegar and soak the brass pieces in that first.
It takes most of the green right off like magic.
Just keep a careful eye on your brass bits.
Do not let them soak so long that they start showing a reddish tint.

Once treated in this way wash your brass pieces with dish washing soap and fresh water.
At this point we usually employ a light textured Scotch bright pad to help remove any remaining green.
After you wipe them dry then you can take out the Brasso to do the final polishing.

Brasso is great stuff for fine polishing, but it is not magic.
If you want the best results you need to shake the can well before using it and every so often while you are working.
Start with a bit of Brasso on a rough textured cotton cloth rubbing with a circular motion.
That will quickly take off the worst of any green that remains.

Once you start to see a bit of shine then go to a soft cotton cloth with lots of Brasso and again use a circular motion.
Wipe off the excess Brasso and buff the piece with a clean cotton cloth to get a real shine.

To keep those shinny pieces that way spray the whole piece with lithium grease or some other anti-corrosive spray spreading it to a uniform coating with a soft cloth.
Let that first layer dry for a day or two then spray the piece again.
It helps to wipe the grease around to insure good uniform coverage.
For a long lasting finish touch up the protective coating every few months or whenever you see it needs doing.
That will keep your brass from turning green again, but no matter how you do it the shine will still fade over time to that "Old Brass" look.

The thing about that coating is that it is actually protecting the brass or bronze underneath it.
Once you have a good patina on old bronze it will stay exactly that way for years with no further deterioration at all.
That has something to do with chemicals and oxides and all that other pollyputheketleon stuff.

What we do is polish up for the big boat show if we will be on display, then let our brass go greenish for the rest of the year.
After all even thick brass will eventually be worn through if you are constantly polishing away at it.
Besides tennis elbow is only a minor complaint compared to brass polisher's wrist.

Please share with your classic boat loving friends. And then check out our boats page.