"Judy Mae"
by Tom L. Thomas
(Holt, Missouri, U.S.A.)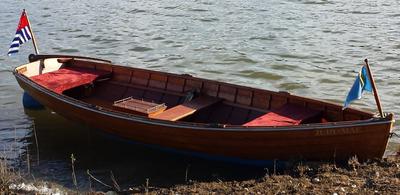 Acquired this 13 1/2 foot lapstrake hulled boat from a gentleman who purchased it in Chicago about 20 years ago.

It sat in a storage shed for most of those years.

Powered by 3/4 horse electric motor.

Guessing built in the 50's.

Am planning on restoring it.

Any information as to her history would be greatly appreciated.

Join in and write your own page! It's easy to do. How? Simply click here to return to Our Wooden Boat Projects...
Want to add more photos?
Recent Articles
Jun 09, 19 03:31 AM

Vintage and retro wood-hull boats sat elegantly in Newport Harbor's calm water Saturday for the sixth annual Newport Beach Wooden Boat Festival at Balboa Yacht Club.

See more by Susan Hoffman at the L…

Jun 08, 19 06:39 PM

I just picked up this little laser sailboat. I had no idea it was solid wood when I saw it on Offer Up. I was ecstatic when I realized this. It's

Jun 08, 19 06:23 PM

Hello Kate, Congratulations on your serendipitous discovery of the Laser Woody.