Jewel a 16' Crescent Sail-boat
by Mike Allen
(Longview, TX)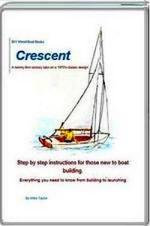 Step by step instructions for building Crescent using modern plywood building techniques and materials.


Well over the weekend I got "Jewel" taped and papered and did my finish sanding.

Vacuumed the hull of all dust then blew everything off and vacuumed again.

Using gray primer and got the edges done and started the rest of the hull.

Oh my it looks terrible !!

Not the primer the hull!

Now back to rough sanding the imperfections, out with the filler and we will see how it looks at the end of the week, and then the second coat of primer will be done and hopefully very fine sanding to be ready for the first of the finish coat.

Wish me luck and patience.