Jay Craft
by Theo Galzerano
(Huntsville, AL)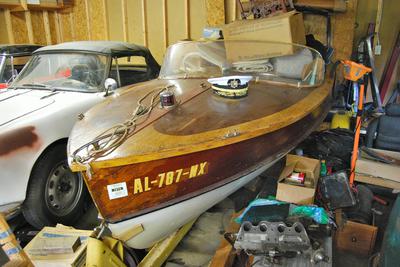 This is a mid or late 50's boat named Jay Craft.

Purchased from the original owner's family, no known manufacturer's history.

Has a chrome placard 'Shelbyville, TN'. Powered by an original Evinrude, it will be relocated soon, from where it rested for 40 years.

Anyone with info on this brand please reply.

My efforts resulted in no luck.

Also, the hull is sound, but there is an raised small strip of wood that goes from the center bow to under the front hull, with a metal strip affixed, presumably for rubbing on trailer etc.

This strip of wood is damaged just under the bow and needs about 2' replaced.

It's only about half an inch thick and half inch wide.

Looks like from repeated loading on the Tee Nee trailer rollers.

Any advice?

I also plan to put water inside the hull to hydrate it.
Advice?

It's a planked hull.

No idea what kind of wood it has.



While the original system worked quite well as a one-off post, it didn't allow for updating or posting new photographs etc.
That is why I have introduced the new Your Pages.
This is new 'Community' platform is for 2018.
It is designed to put you in control of your content, make it easier to for you to tell us about your Wooden Boat, upload photos etc. and most of all post updates as and when you wish to.
There is also a forum where you can ask any questions you may have about Wooden Boats and join in the conversations.
So, please come on over and join our community of likeminded Wooden Boaters.