"ILLUSION"

(Michigan, USA )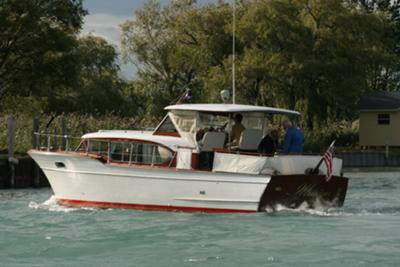 "Illusion" is a 1958 35ft Constellation Bullnose.

I am the 4th owner.

The previous owner had her for 40 + yrs.

She has been boat house kept for all those years in Algonac, Michigan where she has been for most of her life.

She is 100% original and was delivered to a fabrication company in Detroit in December 1957.

"Illusion" is powered by a pair of MCLs with dual updraft carbs.

Shortly after delivery the 2nd owner (who purchased her from his partner) changed her from Chris O Matic to Manual.

I do have the original Chris O Matic complete shift kit though.

She is entirely made of mahogany and teak.

We spend our time with her traveling between Lake Erie and Lake St Clair.

We also have a 1969 38 ft Commander that I am currently renovating.

I am planning to keep "Illusion" to finish her and then we will see what the future holds.