"ILLUSION"

(Michigan, USA )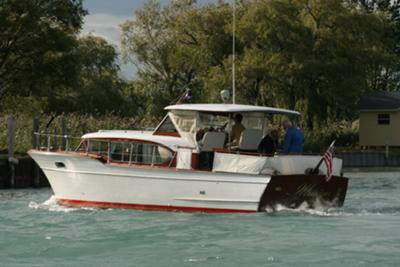 "Illusion" is a 1958 35ft Constellation Bullnose.

I am the 4th owner.

The previous owner had her for 40 + yrs.

She has been boat house kept for all those years in Algonac, Michigan where she has been for most of her life.

She is 100% original and was delivered to a fabrication company in Detroit in December 1957.

"Illusion" is powered by a pair of MCLs with dual updraft carbs.

Shortly after delivery the 2nd owner (who purchased her from his partner) changed her from Chris O Matic to Manual.

I do have the original Chris O Matic complete shift kit though.

She is entirely made of mahogany and teak.

We spend our time with her traveling between Lake Erie and Lake St Clair.

We also have a 1969 38 ft Commander that I am currently renovating.

I am planning to keep "Illusion" to finish her and then we will see what the future holds.


While the original system worked quite well as a one-off post, it didn't allow for updating or posting new photographs etc.
That is why I have introduced the new Your Pages.
This is new 'Community' platform is for 2018.
It is designed to put you in control of your content, make it easier to for you to tell us about your Wooden Boat, upload photos etc. and most of all post updates as and when you wish to.
There is also a forum where you can ask any questions you may have about Wooden Boats and join in the conversations.
So, please come on over and join our community of likeminded Wooden Boaters.