HULL DEFORMATION, WHEN OUT OF WATER
by Glynn Wortham
(Göttingen)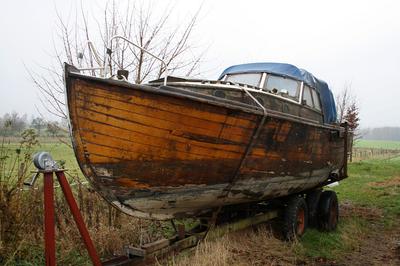 HI, I'm bringing my boat into a large warehouse for the next few years to work on it.

It's a 25ft white oak hulled day boat, weight about 2 tons.

The working place is likely to be too dry, as we all know a certain amount of moment is inevitable,

I want to keep it to a minimum by highering the humidity,

Question 1:- any ideas as to a ideal humidity for white oak?

Question 2:-is it feasible?

Question 3:-am I being to careful?

Would welcome a few comments.


While the original system worked quite well as a one-off post, it didn't allow for updating or posting new photographs etc.
That is why I have introduced the new Your Pages.
This is new 'Community' platform is for 2018.
It is designed to put you in control of your content, make it easier to for you to tell us about your Wooden Boat, upload photos etc. and most of all post updates as and when you wish to.
There is also a forum where you can ask any questions you may have about Wooden Boats and join in the conversations.
So, please come on over and join our community of likeminded Wooden Boaters.