Skippers Ticket Perth - Perth Boat School
by Mark Devis
(Glen Iris, Vic, Australia)
Hi,

Skippers Ticket Perth Boat School

Booking via a simple to use automated online computerized booking system that gives you an instant reply and allocates a trainer to you.

Pay via Direct Debit or secure Bankwest Credit Card payment system or cash to the trainer on the day.

Thanks,
Return to DIY Wooden Boat Yards.
FEDERICA
by Marta Bioletto Bartrrings
(Milan Italy)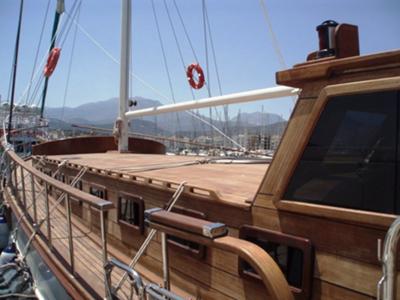 FEDERICA

A 1996 Turkish gulet rebuilt today respecting the arts of yesterday!

Complete boat refitting started in 2005 till 2009.

FEDERICA

Return to DIY Wooden Boat Yards.
While the original system worked quite well as a one-off post, it didn't allow for updating or posting new photographs etc.
That is why I have introduced the new Your Pages.
This is new 'Community' platform is for 2018.
It is designed to put you in control of your content, make it easier to for you to tell us about your Wooden Boat, upload photos etc. and most of all post updates as and when you wish to.
There is also a forum where you can ask any questions you may have about Wooden Boats and join in the conversations.
So, please come on over and join our community of likeminded Wooden Boaters.