Forget long and painstaking sanding using sanders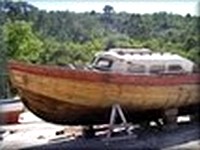 Use a new tool Roto rasp with your angle grinder and your will cut time and effort needed several times.

It will never burn your surface and it can be reused many times.

It comes in fine, medium and course, for all types of finishes.

Video demonstration and information on www.rotodistribution.co.uk.

Try and you will never look back.




Join in and write your own page! It's easy to do. How? Simply click here to return to Your Comments.
Want to add more photos?