Forget long and painstaking sanding using sanders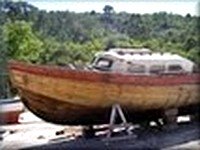 Use a new tool Roto rasp with your angle grinder and your will cut time and effort needed several times.

It will never burn your surface and it can be reused many times.

It comes in fine, medium and course, for all types of finishes.

Video demonstration and information on www.rotodistribution.co.uk.

Try and you will never look back.




While the original system worked quite well as a one-off post, it didn't allow for updating or posting new photographs etc.
That is why I have introduced the new Your Pages.
This is new 'Community' platform is for 2018.
It is designed to put you in control of your content, make it easier to for you to tell us about your Wooden Boat, upload photos etc. and most of all post updates as and when you wish to.
There is also a forum where you can ask any questions you may have about Wooden Boats and join in the conversations.
So, please come on over and join our community of likeminded Wooden Boaters.