For sale: Lille Lodsen, a Pilot Cutter from Bornholm, Denmark.
by Timothy Kuhn
(Helsinki, Finland)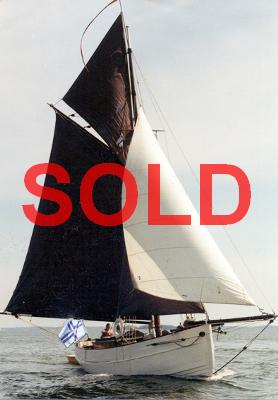 SOLD
Pilot Cutter / Bornholm Denmark

Built 1916 in Svaneke by Peter Hansen

Measures: 11 x 3 x 1.7 meters

Materials: Oak on oak – Clinkplanked under water / Cravell above water

Deck: Hardwood (Afzelia)

Sails: Clipper canvas (new 2008) / Jibs dacron (2)

Mast height: 12m

Engine: Volvo Penta diesel (MD2B)

Tanks: Diesel 120l / Water 140l

Interior: Oak and mahogany / Sleeps 5 pers.

Additional equipment: Traditional wood-burning stove, winch + 2 anchors, (1 CQR), chemical toilet and basic navigational equipment.

The boat is registered in Lovisa Finland, and member of the Finnish Traditional Sailing Society. Currently based in Mariehamn Åland Islands.

Time has come to hand over this exceptional boat to someone with the right spirit, knowledge and energy to keep her sailing.

Asking price: 35000€ (Offers are welcome).