For sale: Lille Lodsen, a Pilot Cutter from Bornholm, Denmark.
by Timothy Kuhn
(Helsinki, Finland)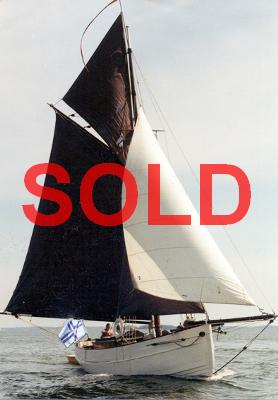 SOLD
Pilot Cutter / Bornholm Denmark

Built 1916 in Svaneke by Peter Hansen

Measures: 11 x 3 x 1.7 meters

Materials: Oak on oak – Clinkplanked under water / Cravell above water

Deck: Hardwood (Afzelia)

Sails: Clipper canvas (new 2008) / Jibs dacron (2)

Mast height: 12m

Engine: Volvo Penta diesel (MD2B)

Tanks: Diesel 120l / Water 140l

Interior: Oak and mahogany / Sleeps 5 pers.

Additional equipment: Traditional wood-burning stove, winch + 2 anchors, (1 CQR), chemical toilet and basic navigational equipment.

The boat is registered in Lovisa Finland, and member of the Finnish Traditional Sailing Society. Currently based in Mariehamn Åland Islands.

Time has come to hand over this exceptional boat to someone with the right spirit, knowledge and energy to keep her sailing.

Asking price: 35000€ (Offers are welcome).



While the original system worked quite well as a one-off post, it didn't allow for updating or posting new photographs etc.
That is why I have introduced the new Your Pages.
This is new 'Community' platform is for 2018.
It is designed to put you in control of your content, make it easier to for you to tell us about your Wooden Boat, upload photos etc. and most of all post updates as and when you wish to.
There is also a forum where you can ask any questions you may have about Wooden Boats and join in the conversations.
So, please come on over and join our community of likeminded Wooden Boaters.