falmouth pilot 6 tonner
by john bevan
(castellon spain)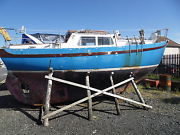 I have for sale a restoration project- complete 1959 built 26ft. 6 ton Falmouth pilot sloop-she is laying ashore at troon yacht haven north of Glasgow in Scotland.

Yacht is called "Leanda"-she is complete-these were basically heavily influenced(copy dare I say!!)of a Laurent giles "virtue" class-a little roomier inside.

There is a fairly modern Volvo engine which turns over freely.

Mast-boom-sails etc.are all there-rigging is galvanized steel and will need changing.

There is rot in the sternpost and rudder-and as she has been laying for at least 2 years out of the water at troon-there will be other rot and problems needing repair.

Interior is quite good-modern gas cooker with oven-sink-pressure water even!!

Forepeak has 2x single bunks-and one pilot bunk in the salon.

There is an anchor-winch and chain.

I have more recent photos which I can send via email.

my email is: captainandcook(at)Hotmail dot com.

basically I want to sell "Leanda" quickly-I have another classic I am working on-and Glasgow too far away for me.

price: £1000 pounds.

The engine/gearbox unit is worth this amount!!

Again-the yacht is complete-needs woodwork and other restoration.


Return to The Boats and Bits Exchange.
While the original system worked quite well as a one-off post, it didn't allow for updating or posting new photographs etc.
That is why I have introduced the new Your Pages.
This is new 'Community' platform is for 2018.
It is designed to put you in control of your content, make it easier to for you to tell us about your Wooden Boat, upload photos etc. and most of all post updates as and when you wish to.
There is also a forum where you can ask any questions you may have about Wooden Boats and join in the conversations.
So, please come on over and join our community of likeminded Wooden Boaters.