"ENDIL" an Oakleaf 28
by Paul Rawlinson
(Cambridge, UK)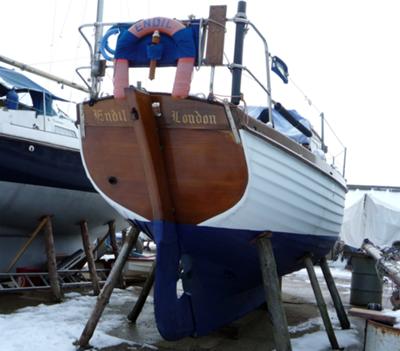 The Transom doesnt look bad!
Endil is for sale, she needs to be varnished on her topsides as she is starting to peel -

I am pricing her to sell as I just don't have the time.

She is laying at Wisbech and is stripped out for the season everthing is there, sails, ropes, radio, charts anchor etc, she sails like a dream

I will accept £3000 as she is.

Call 01353 775081

~~~~~~~~~~~~~~~~~~~~~
Though she needs some work She is largely pretty good.
Endil
The name is that of a Scandinavian Sea Deity one of the Kings of the Sea.
She is an Oakleaf 28 Built for the East Coast of the UK by Sutton and Smith in 1972.
Well built and workmanlike in her appearance.
The boat has been left closed up and there is some wood problems on the stem, a little on the transom and a soft area on the side cabin.
Otherwise apart from this and some maintenance she is pretty good.
I have inquired the cost of the work from a good boatyard that specialises in wood.
Not cheap.
I may yet decide to do the work myself.
She has a centre plate so will float in 3 foot but draws 5 when the plate is down.
Pictures give an idea.